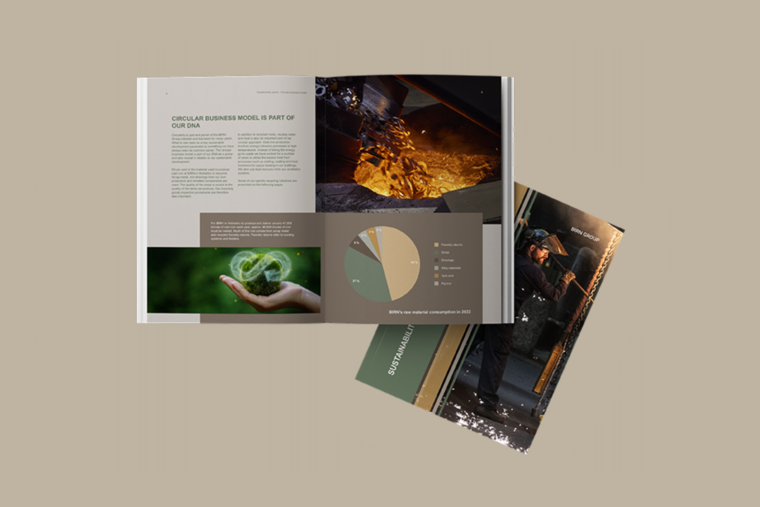 The BIRN Group has just published its very first sustainability report covering TASSO and all the BIRN Group's companies. The report is thus another step towards a more sustainable business model for the entire Group.

Sustainability have for several years been an integral part of the way we work at TASSO. With our dedicated focus on the energy and resource optimization, sustainability has evolved to become an essential part of the company's DNA.

Despite an increase in production of continuous cast iron, we managed to reduce our energy consumption by 6 percent last year, and, in 2023, TASSO started purchasing certificates for renewable energy – mainly wind energy with a Guarantee of Origin certificate.

- At TASSO, we have a clear ambition to become more energy efficient, and we continue building on our position as a market leader in terms of energy optimization. This will also help us meet the increasing demands we face as a supplier from our customers within sustainability and social responsibility, says our managing director, Kristian B. Pedersen.

Circular thinking
TASSO is already far ahead in the field of circular economy. One of our circular initiatives is our partnership with Fjernvarme Fyn to utilize TASSO's surplus heat. We also have several initiatives regarding material reuse and source sorting.

- Each year, we sent around ten tons of graphite to some of our partners, who recycle it. So, it's safe to say that the circular mindset is deeply rooted in everything we do, concludes Kristian B. Pedersen.

TASSO also takes social responsibility for our employees. This was recently underlined in BIRN Group's employee satisfaction survey, which we were also a part of.

In the sustainability report, you will find several good examples of how TASSO and the Group's other companies take responsibility for their employees and contribute to the social development of the local areas in which they are a part.

Read our sustainability report
Want to read more about our work with sustainability, circular economy, and social responsibility? You can read our sustainability report via the link below.